Homegrown Readers
Homegrown Readers was written with parents in mind.
Through many years of experience teaching beginning readers, Jan has learned simple but important ways to help a child gain confidence while mastering the skills necessary to read fluently. 

Parents will gain insight into the best ways to support their children as they learn to read. 

They'll learn what to say when a child is "stuck" and how to ask helpful questions as children move past word by word reading to fluency and understanding. They'll learn to evaluate their child's reading progress and ways to make practice reading more fun.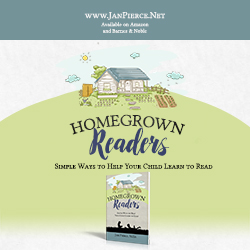 Reading with understanding is a skill that opens the way for children to learn virtually anything. 

Parents want their children to be fluent, thoughtful readers and Homegrown Readers: 
Simple Ways to Help Your Child Learn to Read can help them achieve that goal.

"Jan Pierce has had a long career as a classroom teacher and reading specialist, as well as being a published writer. Homegrown Readers, well-written, with parents in mind, is an incredible tool for raising up book lovers. And the world needs more 
book lovers!"  
Holly J. Michael, author of Crooked Lines.
 
"This book has helped me greatly to be a purposeful, goal-directed teacher to my six year-old who is    an emerging  reader. The book gives guidance on how to teach reading for both understanding and enjoyment. It's easy to read (not a daunting textbook) and is broken into short segments. It's full of ideas and resources. I highly recommend it to all who invest in teaching their children to read." 
A Homeschooling Mom

Homegrown Readers is available on Amazon.com now and as an e-book.
Price: $14.95