by Nicole White
If a child is inclined towards art, I cannot stress enough the
importance of allowing them artistic freedom
.
Some children learn to wait and follow instructions, others, just run wild with their innocence and
endless imagination
.
I believe that if a child is interested in or inclined towards any art process that this can be a therapeutic way of
expressing themselves
and should be
encouraged and nurtured
.
I once had a client whose young son was believed to be on the autistic spectrum, she was coming to me for other reasons, but twice she
brought him in with her.
Paper and markers and a clipboard, and this boy came alive
into his own little world. He was happy in this world, where he was a little destructive in other areas.
As they were in my office, he drew and drew and drew.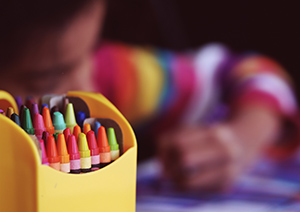 Stock Image by Aaron Burden
He didn't spend much time on each drawing, it seems like the process of getting it out and onto paper and then moving on was much more appealing until it came time to share what he did.
He was SO excited to share the stories of the characters he drew, he lit up and was animated!
Each drawing took him between 30 seconds and 3 minutes to create. His mother was telling me that her husband would bring home the recycled office papers for him to draw on because he went through so much paper every day.
This was music to my soul.
Because the mother was not artistic, she did not guide him in any one direction, she did not ask him to make the cars look more real, or to try to find an accurate color for his self-portrait… instead,
she let go and let him have this freedom
…
And he thrived because of it.
As an art instructor, especially for children, I believe it's more important to give them access to art supplies and time for art, rather than try to 'teach' them how to draw or paint accurately.
I don't think that 'competition' with art is a good idea for children as they start to create what is expected of them, instead of what is within them.
I have seen children come alive when they have the
freedom to express themselves with drawing and painting
without having to worry about what it looks like.
Instead of saying "oh what a pretty flower that is", I will let them share what they want to about their drawing or painting.
If they don't want to share much, I won't pry.
Eventually, they
want
to tell the story of their painting.
I don't ask, "what is that?"
The child painting knows what they did, and if they want to explain it, I will listen.
Sometimes it's disheartening for a child to see that you can't understand what it is they created, and it brings some doubt to them. If
they doubt too much, they may not want to make art.

If they ask you, "what do you think this is?" turn it around and get them to talk about it, ask them to tell you about their piece.
Listening is a gift to your children.
They usually have so many rules to follow each day,
let their art time be where they are in control
. They will flourish for it and I think you will find that they will behave better in other areas if they know that they have this freedom of imagination and expression.
I believe it's important to teach children skills.
For instance, with painting, I will explain the paint colors to them, and demonstrate how to use and respect the paint brush. Show what happens with too little or too much paint, etc.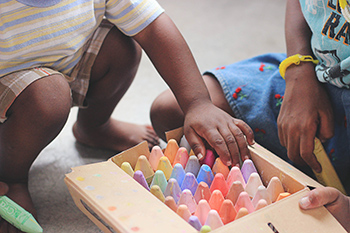 Stock image by Tina Floersch

I'll give them guidelines for the art tools, but when it comes to them making the art, I let them express themselves freely.
Whether they want to put one little dot on a page and call it done or paint the whole thing in until they have mud,
as long as they treat the tools well, the painting is completely up to them.
Cultivating this freedom of artistic expression with your child or children will naturally draw out
their creative genius
!
---
Nicole White, CHHC, AADP, E-RYT, Author is a certified yoga, meditation, and qigong instructor, certified holistic health coach, art and life coach and facilitator. She has taught art classes since 1997, health and movement classes since 2005. Nicole loves to encourage people to express themselves.

Raven Art Center is located at
301 Washington St. SE, ABQ, NM 87108
505.204.1437

www.ravenartcenter.com/homeschooling/