by Amanda van der Gulik
Most of us are great at setting goals, it's the rest of the steps that can be our falling point.
But of all the steps that it takes to finally reach our goals, there are two points that get most people stuck. If you look online, you'll find any number of 'experts' who will only focus on the first failing point but I want to prepare you for both so that you will actually have a chance to finally reach your goals!
So which ones are they?
Well, let's first go through the 5 steps so you'll be able to better understand each one and see if maybe you can guess the two that are the hardest for most people to actually move forward on.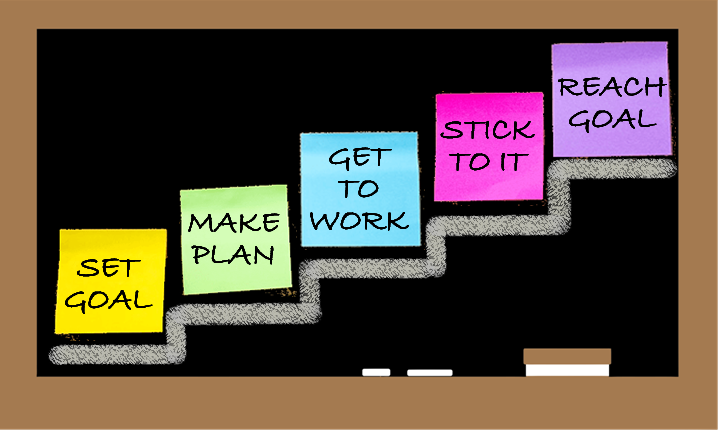 Here are the 5 Steps To Achieving Your Goals this year:

STEP 1 - SET GOAL:
As you are probably already aware, you will never achieve any goals until you at least first set one!
Sounds simple right?
Might sound that way, but it's not! If you don't set your goals the
S.M.A.R.T.
way, then your goals won't have a chance of getting to the next step on the ladder of success.
So what is a
S.M.A.R.T.
goal?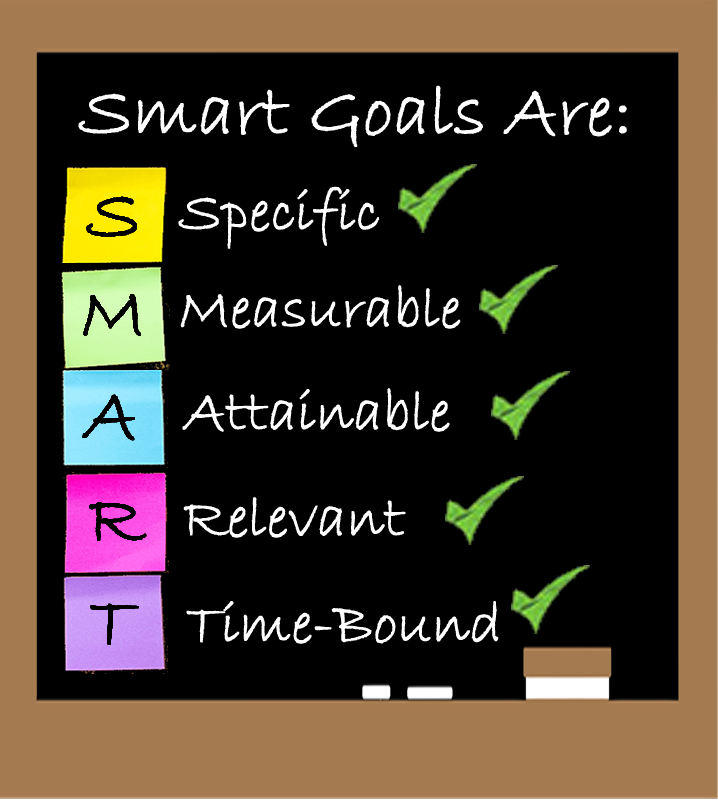 For your goals to get to the next level of success, you need to make them
S.M.A.R.T.
S: Specific
You first need to make sure that your goal is uber specific. That means, that you don't just want to set a generic goal, for example: "I want to lose weight."
You need to be more specific than that. What kind of weight do you want to lose? Body Mass? Body Fat? Where do you want to lose the weight? Your tummy? Your bum? Your legs and arms?
M: Measurable
Next you need to know what your end result is that you want to achieve? How much weight do you want to lose? 5 pounds? 10? 20? 50?
Maybe there are other measurements that you also need to take into account. How many inches do you want to lose in each area?
A: Attainable
Do you believe you can achieve your goal? Is it realistic to you?
We all have different levels of belief of what we can achieve. Maybe you honestly believe you can win the lottery but for most of us, having a goal of maybe finding a way to earn an extra $100/month would be a more realistic goal to go after.
A tip here is to think about what the end result is that you want, then consider what you really think will happen, and then go with a middle point as your goal. That way it won't be too easy but also not too hard; just hard enough to motivate you to push yourself because you honestly believe you have a chance of achieving your goal.
For example: You want to lose weight. You would really love to lose 30 pounds but in the past you've only ever managed to lose 10. So an attainable goal would be to set your goal for losing 20 pounds.
R: Relevant
Is your goal actually relevant to you? Do you only actually weigh 80 pounds and losing another 20 would mean you'd end up in the hospital? Or do you weigh over 200 pounds and losing 20 pounds would mean a healthier lifestyle for you? You have to decide how relevant it is to you. This will also help to increase your own belief and motivation to achieve your goals. Remember we still have 5 more steps to go!

T: Time-Bound
By what date do you want to achieve your goal? Set yourself an end goal date. Again, this needs to be something that you believe you can actually achieve. For example, a healthy goal of losing 20 pounds if you are over 200 pounds right now, would be to lose about 2-4 pounds a month. So do the math = 20 / 2 = 10 months, 20 / 4 = 5 months. Which one feels more realistic to you? Go with what you believe possible.
As you achieve your goals, your beliefs will grow as well and you will be able to achieve bigger and bigger goals. Start small so you know you will win!

STEP 2 - MAKE PLAN:
The next step to achieving your goals is to make a plan of action. What specific steps do you need to follow to make your goal actually work?

With our example of weight loss above, it may look something like this:
1.
Add 1 serving of veggies to your daily eating habits. You don't need to add 1 extra serving to every meal, just at least on extra serving per day. Start small but be consistent.
2.
Walk an extra 100 steps per day. Sounds like a lot, but it isn't really. Again, this is totally dependent upon where you are at right now. If you normally walk 10,000 per day, then you could probably add an extra 1000. If you normally walk just 2000 per day, then an extra 100 steps will make a big step forward toward achieving your goal.
3.
Drink one more full glass of water a day (just 8 ounces). Again, if you're used to more than increase that. But I wouldn't recommend doing less than that unless you are under strict water restriction advice from your doctor. Water is good for you, and helps you lose weight.

STEP 3 - GET TO WORK:
Don't just stop at making your plan. You actually have to take action! Get walking, drink more water, eat more veggies! As Nike says, "Just Do It!"

STEP 4 - STICK TO IT:
You may not have even considered this step. Most of us give up when we first fail. Did you know that most business start-ups fail? Why is that? It's actually NOT because the businesses were bad ideas, or that there were no customers...it's because the owners for some reason or other, just didn't stick to it when the going got rough.
Stick To It!!!
Never Give Up .... OR.... You will never...

STEP 5 - REACH GOAL:
Reach your goal!!!!
And celebrate! Make a BIG deal out of actually achieving your goal! Again, MOST people won't! But you DID!!!
And that means that when you achieve one goal, you go on to achieve your next, and your next, and your next, and your NEXT!!!
You did it! Treat yourself. Go out to dinner. Go out to a movie. Go on a date night. Go to the spa!!! Reward yourself so it feels sooooooo good you'll WANT to do it again!
Leave your goals in the comments below because....the other super important step, not mentioned above is....

BE ACCOUNTABLE!!!
Let others know about your goal, and have them check in on you to make sure you are sticking to your goal! Just be very careful about WHO you choose to share your goal with. You want support, not discouragement. That's why typing in your goal below you are telling the world, (the safe, supportive world) what your goal is, without any nay-sayers keeping you from your goals.
Together we grow.
And what about our kids?
Well, here is a short video to help you help your kids and teens to set their own goals. In it, I give a few more tips and tricks for helping you to make your goals actually come true. Enjoy and share. Thank-you.

Teaching Children About Money Tip #01 - Goal Setting

Here's to you reaching your goals. Here's to your best year yet!
Cheers…Amanda van der Gulik…Excited Life Enthusiast! ;o)
P.S. Knowing how to set goals so they'll actually come true is the KEY to actually achieving your dreams!
Click Here
to grab your
free copy of "Goal Setting For Families
". Enjoy!
---
Amanda uses story-telling to teach children and teens the fundamentals of cash so your kid will learn these in a fun and memorable way, without feeling like they're being TOLD what to do! Amanda has been a special guest on Radio Disney, featured in The Costco Connections Magazine both in Canada and the USA and on numerous parenting shows around the globe. For a short time, Amanda is giving away
7

FREE

Gifts, including "50 Money Making Ideas for Children and Teens" and "Allowance Secrets: To Give or Not to Give?"
Visit www.TeachingChildrenAboutMoney.com, to grab your free gifts before they go away.