The Keyboard Classroom
The Keyboard Classroom, from Keyboarding4kids LLC, is an effective software tool used to instruct the user in keyboarding by memory. The basic principle used is muscle memory in conjunction with mental memory. The program is extremely user friendly, and draws the interest of children by using games as a reward to fulfilling the repetitive exercises required to master keyboarding. This program is excellent for instruction children of all ages. The program is accompanied by "Finger Guides" to aide in muscle memory. I would recommend this to children of seven and up.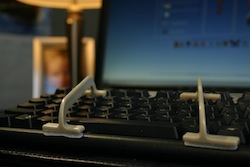 "Keyboard Classroom teaches typing skills in fast in one-minute sprints, quickly developing speed and accuracy. It's especially effective for a child with a learning disability with special education needs like those with Attention Deficit Disorder or ADHD, Dyslexia, Dysgraphia, Asperger Syndrome, and some other forms of Autism. When these children can learn to type fast without thinking about where their fingers are, they can concentrate on the words they will use to express their thoughts.
It's a life-long learning skill."(keyboardclassroom.com/page/show/software-features)
I plan to continue to use Keyboard Classroom in my homeschool. The program is excellent and increased my typing skills by 15 wpm after three weeks of use. My daughters, seven and nine, have used computers for about three years and struggled with the hunt and peck method. After just three weeks of using the software—use of the keyboard is becoming second nature to them. My oldest has reached a speed of 24 wpm. She is happy as she has been given the opportunity to type with the keyboard instead of with pen on paper. Use of this program has also helped in their general studies. They seem to have more focus than before.
I only have one have one point in the negative. The finger guides as manufactured did not fit any of the keyboards I have. I have two keyboards from Gateway, one from Microsoft (ergonomic), and also a notebook from Toshiba. I had to physically alter the guides to enable them to be useful. I would recommend adjustable guides in the future for use with the non-standard keyboards that we find in today's market.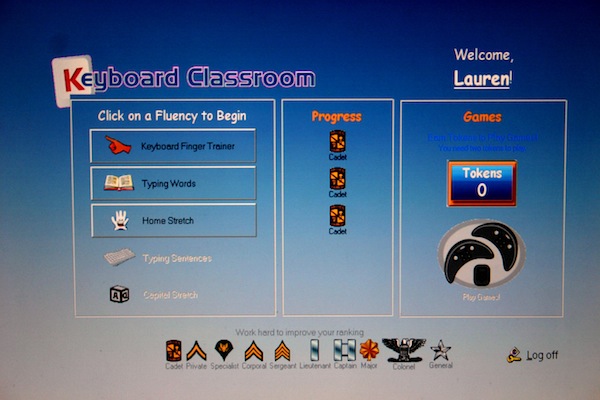 The price of Keyboard Classroom is affordable at 39.99. Some may consider this a bit pricey, but compared to similar typing software it is acceptable.
www.keyboardclassroom.com
Reviewer Biography
Kenneth Elsey "My wife and I made a vow to school our children at home on our wedding day. We determined together that the public schools in our area do not have the environment or educational capabilities that we want for our daughters. Abigail is now beginning the third grade, and Marjorie is going into second grade. This year I will be the sole instructor as my wife is going back to college. I am on disability which allows me the privilege of teaching my daughters."
Disclosure:
The product(s) mentioned above were supplied free of charge by the above company in order to conduct an honest review. No other compensation was received for this review. The thoughts, experiences, and opinions included are entirely the reviewer's own and may differ from that of others. The Home Educators Resource Directory is not liable for any issues you may incur from use of said product(s). See full disclosure information. If you have any questions you can contact us.