To review back issues of Newsletters, click here for tips, news, and announcements.



---

News Articles

Featured Resource of the Month


Additional Resources
---

Goal Setting : Where Do You Think Most People Get Stuck?
by Amanda van der Gulik

Most of us are great at setting goals, it's the rest of the steps that can be our falling point.

But of all the steps that it takes to finally reach our goals, there are two points that get most people stuck. If you look online, you'll find any number of 'experts' who will only focus on the first failing point but I want to prepare you for both so that you will actually have a chance to finally reach your goals!

So which ones are they?...read more

back to top

---
How To Help Children Learn
by Dr. Jeremy Fritz
Can the brain continue to grow? It was once believed that our brains were developmentally fixed. This thinking led to the belief that as we age our brain becomes rigid and we can't change how our brain processes information. In essence, an old dog can't learn new tricks. Thankfully, current research has shown this to not be the case.
We are talking about neuroplasticity, which is the ability of the brain to grow and develop throughout one's life span. But what exactly is neuroplasticity and how does it impact learning? Well, the term neuro refers to the brain and plasticity means pertaining to plastic? Does this mean that the brain is plastic in form? Of course not! However, the brain is moldable like plastic. More specifically, as we learn new things in life, our brain actually grows like a muscle. It does this by increasing the size of its cells and, more importantly, through the process of developing new connections between cells. With a basic understanding of neuroplasticity, parents and educators can better shape the development of our children...
read more


back to top
---

Therapeutic Art for Children
by Nicole White

If a child is inclined towards art, I cannot stress enough the importance of allowing them artistic freedom.

Some children learn to wait and follow instructions, others, just run wild with their innocence and endless imagination.

I believe that if a child is interested in or inclined towards any art process that this can be a therapeutic way of expressing themselves and should be encouraged and nurtured.

I once had a client whose young son was believed to be on the autistic spectrum, she was coming to me for other reasons,
but twice she brought him in with her...read more

---

Art in the Winter Garden
by kidsgardening.org

Want to put a new spin on your outdoor winter fun? Sparking far more creativity than the typical snowman, introduce your students or family to the work of sculptor and photographer Andy Goldsworthy; then let your imaginations go wild in your own winter garden.

Materials:
An assortment of natural materials
A camera to document creations
Approximate Time to Complete:
15 minutes + ...read more
---
Free College At Your Fingertips
by Jean Burk
Do you have $80,000 saved up for college? This price isn't even for a high-end college but actually the cost of a mid-range private university these days. Over fifty-percent of tuition is paid for by student loans; forty percent through grants and less than ten percent comes from scholarships. With colleges tightening their belts on school loans and grants only given to families that fall into a certain income bracket, parents are in desperate need to find college money. But take heart, standardized tests can be your ticket to incredible scholarships that could yield you free college.
The SAT and PSAT/NMSQT are tests that colleges use as a measuring point to give scholarship money -the higher the scores, the bigger the scholarships. Besides college entrance, some of the benefits could include full tuition, room and board, honors dorms, graduate money and stipends to study abroad..
.read more
back to top
---

Help! My Child Doesn't Pay Attention

by Sarah Major
One of the biggest challenges for teachers and parents alike is successfully capturing the attention of their students.
When we teach, they need to listen and process what they hear, right?
WHAT PAYING ATTENTION LOOKS LIKE

Traditionally the clearest signs of a child paying attention are that he/she is sitting still, looking at me, and obviously listening.
Is this what we are trying to achieve?

WHAT LACK OF ATTENTION LOOKS LIKE
...
read more
back to top
---
Homeschooling Guidance From Educents, Math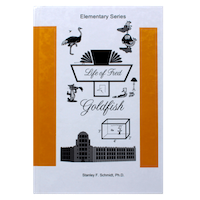 Even if a child breezes past arithmetic, multiplication can be one of the biggest hurdles for a young learner. Teaching multiplication is a little more abstract than addition and subtraction, so learners get stuck with a bigger question, "when am I going to use this in real life?"
But fear not – there's a solution. If you're already part of the Educents community, you probably heard about the insanely popular
Life of Fred
series and how it has worked wonders. Life Of Fred Goldfish with struggling math students. Why is the series popular? Because the hilarious stories apply math and science concepts in real world situations.
Life of Fred
weaves a variety of academic concepts while telling the fictional story of the life of Fred Gauss. Fred is a child math genius who finds ways to connect the strange happenings of his life with lessons about math. As you follow the story of Fred, he introduces more and more advanced math topics. Fred arrives to multiplication concepts in the end of the book titled Farming and the beginning of the book titled Goldfish.
Fred's Silly, Real Life Scenarios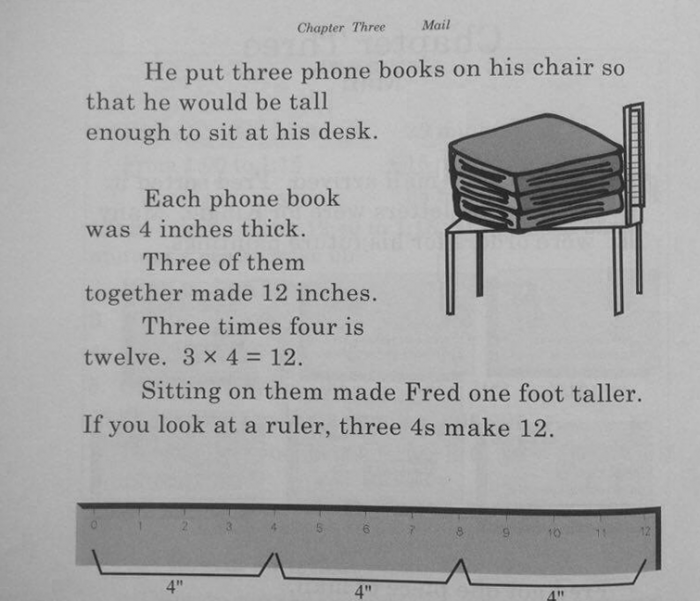 Fred's lessons always start off with a practical lesson. In the photo below, you can see an example of how Fred uses multiplication to figure out a relatable scenario in his life.
As the story progresses, the scenarios get wackier and more fun. In
Goldfish
, Fred visits a pet store and browses, looking for the perfect pet.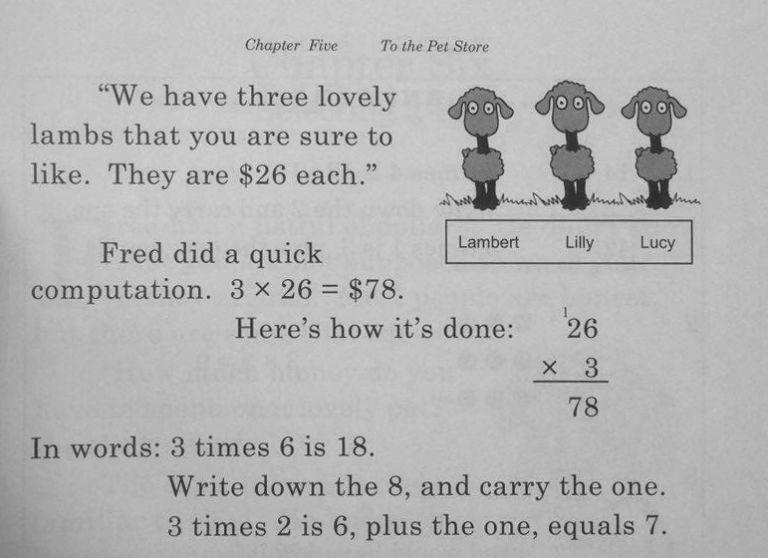 At one point he is offered three lambs for purchase. Here's how Fred calculates the total cost of his purchase. Notice how Fred tackles the problem in three ways – through the story, through numbers, and through an explanation of the equation.
One of the best parts about teaching multiplication with Life of Fred is how quickly the lessons can lead into each other. Instead of learning about multiplication and drilling that in with worksheets, Fred's real-world scenarios continue.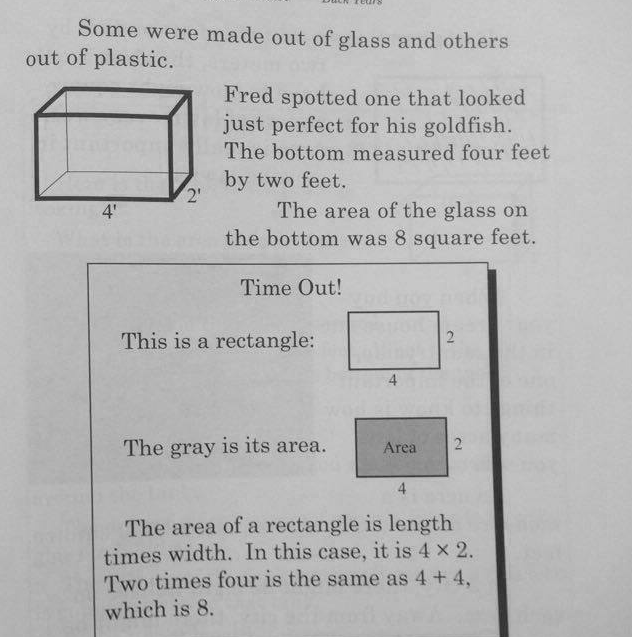 Here's another example from the Goldfish book. Fred buys some goldfish from the store and then goes shopping for an aquarium. Now Fred must take his multiplication skills and calculate the area of the box to see if it's big enough for his fish to fit in. (Notice Fred incorporating geometry concepts too!)

More Than a Storybook
Each chapter in the
Life of Fred books
have a summary at the end. In the summary, children are given a small number of questions that they can use to make sure they have mastered the test material. Fred works best as a math supplement for homeschoolers or parents wanting to develop math skills, but it really does feel like a full package.
Why do thousands of parents and children love these books?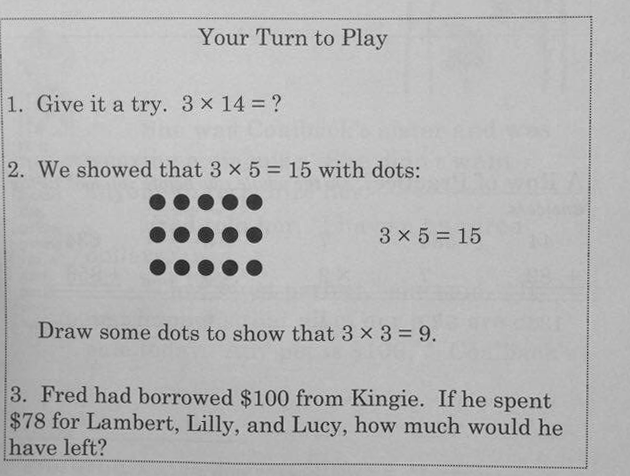 Fred not only excels at teaching multiplication, but he's funny too! Here's a passage where Fred talks about ducks. It's light, funny and adds a bit of vocabulary as well.
"Even the tears of that duck were a lie. Ducks don't have lacrimal (LACK-reh-mel) glands like humans do.
The lacrimal glands produce tears. If your baby brother was crying a lot, you could say, "What' lacrimation!" and tell your friends that he is the world's best lacrimator."
Parents Love the Fred Books
These are just a couple examples of how Life of Fred works by teaching multiplication using real life scenarios. If you want to hear more about Fred, check out the dozens of raving reviews from parents who use the Fred books to strengthen their children's math skills.

"My son HATES math! Not anymore! I heard about these books from another homeschooling mom and decided to give them a try. My son LOVES them! He comes to ME now asking for Fred!"
From the start, my kids have been thrilled with LOF! I can't believe how quickly they have gone through them! The information is presented in an easy-to-understand story format, so they learn almost effortlessly."

After years of "drill and kill" math, my son and daughter are so excited to have Fred as a part of our family!"

For more information, check out Life of Fred today!

back to top
---
Featured Resource of the Month


back to top