To review back issues of Newsletters, click here for tips, news, and announcements.



---

News Articles

Featured Resource of the Month


Additional Resources
---

Hard Questions About Homeschooling (Part Four)
THE "EXPERTS" SAY MY KID IS "BEHIND!"
by Steven David Horwich

This is the fourth article in a series answering hard questions dealing with homeschooling. In article one, we made a brief list of major concerns and objections one might encounter to homeschooling. Let's take up the fourth point on that list now.

- Some children may be seriously "behind", as adjudicated by "experts".

There are two key words to this issue that must be well-defined for us to have this discussion.
The words are "behind" and "expert"...read more

back to top

---
Everyday Art - Diwali Rangolis
by Jennifer Barrett -Sculptor/Educator/Professional Tinkerer
Inspiration sometimes comes in the oddest ways. I was inspired by a suspension of alternate side parking yesterday. As I pulled up to double park, a common practice on NYC streets, I realized cars were parked along both sides of the road. I checked my app, and sure enough alternate side parking was suspended for Diwali. Very excited that I had an instant parking space, I used the time I saved to research this Indian festival of lights, and various crafts associated with it.
Inspiration:
I soon discovered Diwali Rangolis, circular and radially symmetrical floor designs. These designs are intended to welcome the
Goddess Lakshmi into the home, which are clean, pure, and beautifully decorated. Rangolis are created out of colored powers, rice,
glitter, and power....
read more


back to top
---

How to Chop Writer's Block
by Julie Bogart

Everyone gets it. You do.

Professional writers do.

I do, regularly.

What is writer's block? It's the feeling of paralysis that hits you when faced with a blank page or blank screen. It's that stuck
moment where you can't move past the last sentence. It's the lurching sensation in your stomach. It's the headache that sets in.
It's the urge to check email, start dinner, change laundry loads, or pick up the phone to call your sister...read more

---

Your Happiness Is Valuable - Are You Making The Most Of That?
by Amanda van der Gulik

You are aware that we only have so much time in this gift called Life right?

Are you wasting your time not being happy, only worrying about making others happy instead?

...Or are you making the most of your own happiness?

Click Here
To Learn The 5 Things You Need To Do Right Now To Make Sure You're Valuing Yourself And Role Modelling To
Your Child Properly...read more
---
4 Tips for Helping Increase Focus in Your Students
by Sarah Major

Focus & Learning:
I grew up in a time when we were supposed to sit in our desks and face forward and pay attention, so when I started to teach, I arranged my desks in rows, and expected my well behaved students to sit, face forward, and pay attention.
One of my first graders taught me that while this arrangement might be convenient for the teacher, it was not workable for him. My new first grade class was a real challenge - lots of learning issues, behavior issues, and more.
One boy I will call Zeke seemed pretty defiant to me. He was constantly out of his seat, and the more I insisted that he SIT DOWN, the more unmanageable and contrary he became...
read more
back to top
---
Kitchen Scrap Gardening
by Lesson plan by Kidsgardening.org
Overview:
With little effort and a pinch of creativity you can devise some very imaginative indoor gardens from your kitchen leftovers! Kitchen scrap gardening is when you grow plants from items you'd normally throw in your compost bucket. Kids love this idea, and it's a great way to reinforce the sustainable living concepts of recycling and reusing. Plus, it's a kick to grow new plants from old plant parts...
read more
back to top
---

Featured Resource of the Month

Holiday Science: Gravy
What's so scientific about your holiday gravy? Isn't gravy just, well, food? Food we put on mashed potatoes and turkey at Thanksgiving and Christmas and Sunday and, well, pretty much any time? How could gravy have anything to do with science?
Yummy! But science? How in the world. . . .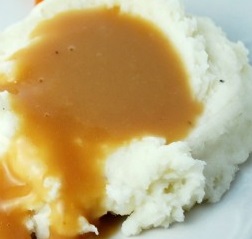 Here's the thing, drooling holiday turkey & gravy lovers: gravy-making is all about the science of starch.
Starch? That white powdery stuff Great-Grandma used to make her handkerchiefs and your Great-Grandpa's boxers smooth and stiff?
Yep. Exactly. Only in the kitchen, we use white powdery stuff made especially for use in food. Otherwise, it's the same stuff.
Starch is plant-based, and many people use wheat or corn-based starches to make gravy. I like to use corn starch*, as flour (wheat-based starch, no joke!) adds its own flavor to gravy whereas corn starch does not. Both, however, require some fancy whisking to get all the lumps out! (If you've ever had to choke down lumpy gravy, you'll appreciate the extra effort put into smooth gravy!)
A kitchen whisk makes stirring lumps out of gravy a lot easier and quicker!
What is starch, exactly? Interesting question! Starch is a complex carbohydrate. To put it more simply, starch is a fancy chain of sugars – fancy, because while sugar dissolves completely in liquid, starches absorb the liquid, rather than disappearing completely in it.
If you added a heaping tablespoon of sugar – white or brown – to your skillet of hot turkey fat, it would simply disappear, completely absorbed by the liquid. But if you added a heaping tablespoon of cornstarch or flour to that same skillet, it would start bonding with the fat and the entire contents would start to "gel." Add a little salt and some milk to your skillet, keep stirring, and in a few minutes, you'll have delicious gravy, table-ready to pour right onto your mashed potatoes and turkey slices. Without the addition of milk, your gravy would be too stiff to ladle out!
If you use flour as your starch, your gravy will be a little "stickier" than gravy made with corn starch. Many people prefer that, and many people do not. Your call. If you have a gluten allergy, use corn starch – flour contains gluten.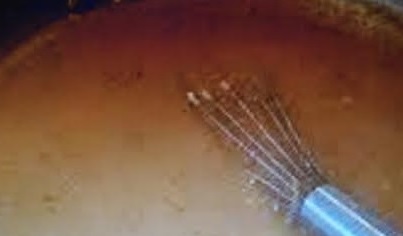 Take a quick scientific peek at what you're adding to your gravy:

Simple starch molecule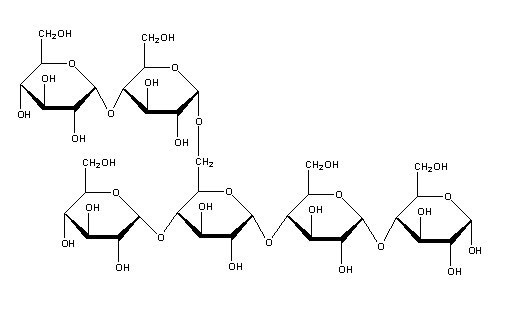 You see? I TOLD you gravy was scientific!
Especially for you cooks, here's a simple recipe for holiday (and any other day) gravy:
In a large skillet, heat (on low) 1 cup of turkey drippings (or ham drippings, or bacon drippings, or butter), stirring constantly. Sprinkle one heaping tablespoon of corn starch onto the drippings, still stirring constantly. When the mixture begins to bubble, SLOWLY add milk (or water if you don't want your gravy as rich) and still stirring constantly. Switch out your spoon for a whisk, and begin slowly whisking the mixture. It will start to firm up very quickly. When it's the right degree of firm to your taste, remove from heat and pour into a gravy boat or bowl. Take it to the table and start eating. Gravy should be served and eaten immediately, so it's probably going to be the last thing set on the table before everyone dives in. If gravy has to sit and wait, the consistency changes. That's scientific, too. Look it up.
Make a big batch; gravy freezes nicely, and there's something about turkey gravy in the spring. . . .
Don't think it's just wheat and corn that contain starch. Loads of vegetables, legumes, and grains are starchy. Potatoes, pumpkin, sweet potatoes, all kinds of beans, peas, rice, and tons of other foods are starchy. Don't try to make gravy with all of them, though.
*Yes, indeed, the same corn starch we use for our
non-Newtonian liquids
! In fact, gravy IS a non-Newtonian liquid!
---
Jane Goodwin is a professor of expository writing at Ivy Tech Community College, a hands-on science teacher for College for Kids, a professional speaker and writer, and a social media liaison for Steve Spangler Science. She wanted to be a ballerina and an astronaut, but gravity got the better of her.
Save